Copper has been called the metal with a PhD, or Dr. Copper, because of its seeming ability to forecast economies. The theory behind that is that rising copper prices reflect rising demand for a metal used in a growing economy. According to this Visual Capitalist post, 60% of copper goes into electrical wire; 20% into roofing and plumbing; 15% into machinery (and 5% into other alloys.) In short, economies don't grow without copper.
Here's what copper prices have done over the last year. Some have wondered how stocks to power upward. Dr. Copper might have something to say about that.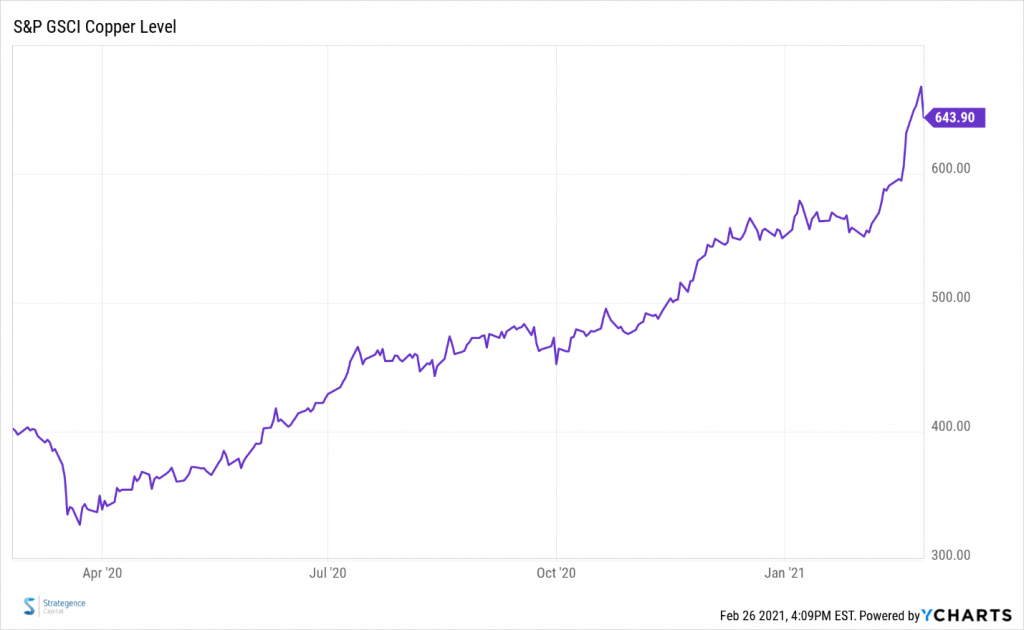 Content in this material is for general information only and not intended to provide specific advice or recommendations for any individual. All performance referenced is historical and is no guarantee of future results. All indices are unmanaged and may not be invested into directly.
The economic forecasts set forth in this material may not develop as predicted.
The fast price swings in commodities will result in significant volatility in an investor's holdings. Commodities include increased risks, such as political, economic, and currency instability, and may not be suitable for all investors.
The S&P GSCI Copper Index, a sub-index of the S&P GSCI, provides investors with a reliable and publicly available benchmark for investment performance in the copper commodity market.