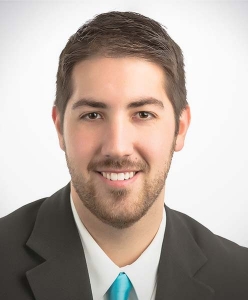 Strategence Capital is excited to announce the addition of Jordan Arnold to the team.  Jordan joined Strategence Capital, LLC, in 2019 as a Customer Service Associate. After passing the required exams, he hopes to become a financial advisor.  He has worked in the financial industry since 2013 and will be working out of both the Van Wert and Fort Wayne offices.
In 2013, he earned a bachelor's degree in finance from Indiana Wesleyan University. Since then, he has worked in the financial industry, specializing in insurance and commercial banking. Jordan has been featured in Money Magazine and the Christian Broadcasting Network, sharing his values on paying off debt and tithing.
Jordan married his wife Emily in 2018. They reside in Bluffton, Indiana, where they were both born and raised. Jordan enjoys traveling, being outdoors, playing basketball, and rooting for his favorite teams, the Indiana Hoosiers and the Indianapolis Colts. He is actively involved in Hope Missionary Church, Rotary International and Junior Achievement.
Jordan can be reached by phone at 260.273.3618 and by email at jordan.arnold@strategencecapital.com.